Sony Videocorder AV-3400
Page 1 of 2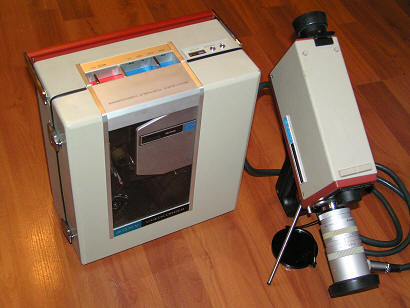 Used Google translator
Sony Videocorder AV-3400. Portable Japanese reel video recorder format EIAJ. Model 1969, manufactured in 1970.
Dimensions 290 x 270 x 150 mm. Weight 8,5 kg. Power supply 12 v, battery BP-20, or from a Power Adaptor AC-3400. Used magnetic tape V-30, a width of ½-inch reel diameter 130 mm. A connector for the camera like AVC-3400 and the TV. Videos can also be quickly viewed on the camera viewfinder.
Circuit recorder collected only on the transistors (about 80 pieces), it does not have a single chip. Electronics such recorders rarely breaks, and usually only requires repairs kinematics, namely the Drum motor, and certainly requires changing lubricants and rubber belt. To repair the drum motor has to be removed and completely disassemble the unit heads. As it turned out, from the old oxidized contacts collector, dry foam insert under the brush springs and the springs themselves caved. It should be noted that the design of brushes are not designed for 40 years of operation, and this defect should be present in any such recorder. I had to repair some of the video recorder, and in all cases we had to sort out URH brushes to restore contact with the collector.
In the Internet you can find a lot of publications about this model and produced her accessories. Instructions for use can be found HERE.
Video footage recorded on Sony AV-3400 with a video camera Sony AVC-3400. Survey was conducted from a height of 9 floors, pictured right to use zoom
Trial recording on Sony Videocorder AV-3400 Camera AVC-3400
Specifications
Video recording system: Rotary 2-head scan system, full field, composite video signal based on American TV standards (supplied from the Video Camera AVC-3400)

Recording time: 30 minutes continuously with a V- 30H tape
Tape speed: 7 ½ ips
Tape width: ½ inch
Video modulation system: Frequency modulation
Horizontal resolution: More than 300 lines
Video signal-to-noise ratio: Greater than 40 dB
Video input: 1.0V (p-p), 75 ohms, unbalanced
Video output: 1.0V (p-p), 75 ohms, unbalanced
RF output: 75 ohms, 80 dB (OdB = 1microV/m)
Audio input: (microphone input) 3.6k ohms, -65 dB, AGC
Audio output: (earphone output) high impedance
Audio frequency response: 100 Hz-10 kHz
Power requirements: DC, 12 V AC, 117V±10 (with use of AC-3400)
Power consumption: 12 W (without AVC-3400)
Dimensions: 11 (w) x 6 3/4 (h) x 11 5/8 (d) in
Weight: 18 1b, 12 oz (with battery pack, tape and reel)
Accessories supplied:
Ac Power Adaptor, AC-3400
Battery Pack, BP-20
Tape, V-30 H
Empty Reel, RH-5E
Earphone, CE-3
Monitor connecting cable, VMC-1M
Polishing Cloth
Splicing Tape
Cleaning Fluid
Head Cleaner
Shoulder Bag
Optional accessory
RF Units:
RFU-53W (for 3 channel)
RFU-54W (for 4 channel)
(Antenna Selector, ANS-1 is supplied.)
Photos can be enlarged
In the video recorder is provided using the battery type BP-20, with a voltage of 12 v, and a capacity of 1 a/h. Homemade battery at 12 volts (analog BP-20) is made up of two sealed lead-acid batteries for 6 volts, 1.3 a/h. Original battery is also collected from two batteries 6 v.
Instructions to the original rechargeable battery BP-20
At the moment I have two of the tape, and placed below their photo taken during the repair
In the photo below the recorder to the board voltage regulator further modification

Two modifications were made such recorders. In the early and later versions were structural differences URH. On the left at the bottom of the head early versions, right - later
In early versions URH Guide band for tape fastened to the underside of the chassis with screws. Later, instead of the guide band on the surface of the body began to make the appropriate tab in the manufacturing process. It also adds three additional springs to adhere the tape from the top in position on the surface of the URH.
On the left bottom of the URH earlier versions, right - late
On the left bottom recorder early modification. It is seen therein that the boards of a different color. Added to this is that the basis for the Soviet copy - video recorder "Electronica-501-video" was taken Sony AV-3400 of the first modification
This board is the motor control circuit
Engine rotating head assembly was defective. To get to it had to completely disassemble the block heads. The design of it is those, that at assembly all details become exact on the landing places, and additional adjustments are not required almost. Centering of an axis of the engine on a washer tachosensor is required only.
On a photo at the left below tachosensors it is established, on a photo on the right he is removed. At repair of the block rotating heads to remove it is impossible, as at assembly he is required for centering an axis of the engine
Foam insert a spring brushes grown old and lost their springy properties. As a result of lost contact between the brushes and the collector of the rotor. To recover the engine needed replacement foam inserts and cleaning the collector rotor.
Brush springs eventually sag and lose their shape. In the photo at the bottom right of the brush after the replacement foam inserts and repair springs. It is necessary to mean, that graphite brushes are pasted to springs by electric glue, and to restore the form of springs it is necessary very cautiously that they have not fallen off. At me such case was, and I have pasted a brush usual electric glue with silver conductive, and then for durability have strengthened epoxy
At assembly after repair it is necessary to tighten a nut fastening the rocker with the heads. That it to make, it is required to fix strong a shaft of the engine on the other hand. For this purpose it is necessary to grind off a round surface of a shaft before formation of a plane that it was possible to hold his flat-nose pliers. A photo at the left below.
On the right picture below tachosensors
Magnetic tape such as V-30 in the width 1/2 inches
Cable VMC-1M and his scheme (scheme site labguysworld.com)
The original power supply AC-3400 with charger function. Except for the button and the indicator of inclusion, on the forward panel there is an indicator of a level of a charge of the accumulator, a start button, and a socket for connection of the accumulator. Dimensions 293 x 127 x 92 mm with no protruding parts, the weight of 3.8 kg.
The top cover is attached a brief instruction on the use of the power supply as a charger
Circuit diagram video recorder Sony AV-3400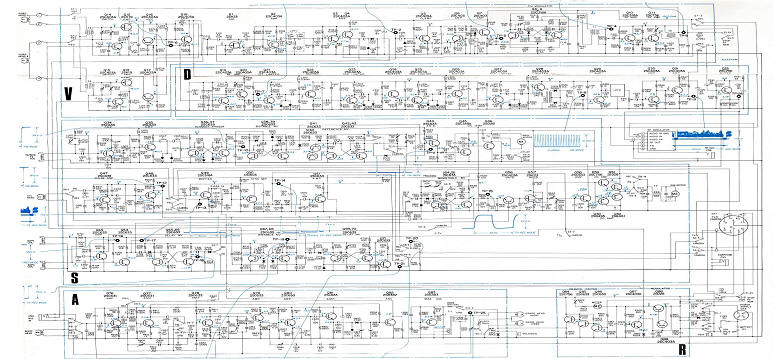 Block diagrams, mechanisms, and pictures of electronics boards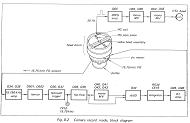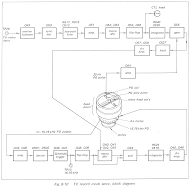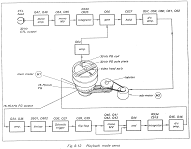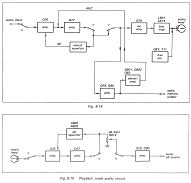 Camera record mode TV record mode servo Playback mode servo Rec/play mode audio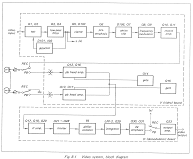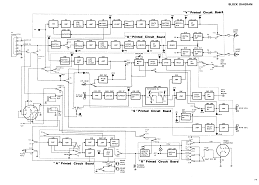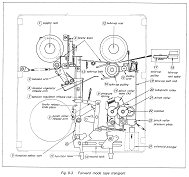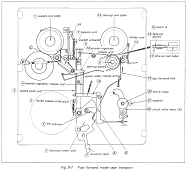 Video system Block diagram Forward mode Fast forward mode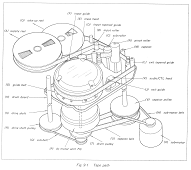 Tape path Video board Demodulator board Servo board Audio board



Video head assembly Transistors and diodes
Wiring Sony AV-3420. This model was produced for the European market, structurally identical to the model Sony AV-3400, but the wiring diagrams differ significantly
In the Soviet Union in 1974 under the titles produced analogues "Electronica-501-video" и "Electronica-video_VMP-1". Appearance very similar, kinematics copied completely. Wiring, location electronics boards and configuration are also identical. Details of these recorder can be viewed at "Electronica-501-video" и "Electronica-video_VMP-1".
Compare Photos

Page 1 of 2