Andy Gard Home Voice Recorder
model 900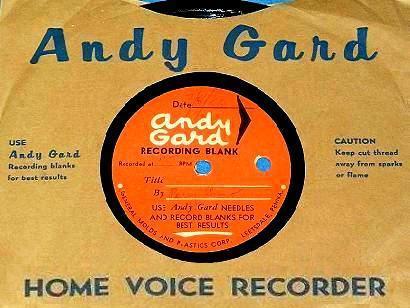 Used Google translator
Andy Gard Home Voice Recorder model 900. This is an American record-toy, model of 1958. At that time, quite professional phonograph recorders were already producing, with the help of which it was possible to make audio recordings of good quality at home. In my collection there are some of them, it's "Gray Audograph D6", "SoundScriber 200", "SoundScriber 200 B", and "SoundScriber" - model of 1945. Unlike them, "Andy Gard" is utterly primitive, it does not have an amplifier and mechanical parts. It is made in the form of a device that can be used with any turntable. The wiring diagram is a series circuit of two "C" type batteries, a power button, a carbon microphone, and a winding of the cutting head. The head consists of a coil with an impedance of 8 ohms, fixed on a flat steel spring between two permanent magnets. When the current in the coil changes, the spring with the cutting needle fixed on it oscillates in the transverse direction. Due to the absence of a special drive, the trajectory of the cutting needle is set by means of a disk with a spiral groove. That is, the principle of a mechanical copier is used. The needle of the copier freely moves in a vertical cylinder, and thus the vertical backlashes are compensated. The cutting tip of the needle is made of a hard alloy, and the needle extension is adjustable.
The device is so simple that it is hard to believe that all this can really work. However, I bought this device in a set with the records already used once, and surprisingly, there is a record on them, though of a mediocre quality. By the way, most recorders-phonographs of that time used flexible plastic discs for recording, and for Andy Gard the discs were made rigid, from a material similar to vinyl.
Unfortunately, I have not managed to make my own record yet, since the cutting head is faulty. There were two defects in it, a break in the winding, and demagnetized magnets. I already rewound the winding, and the replacement of the magnets still remains. I hope, in the future, the record will turn out, because everything else, the microphone and the needle in good condition.
Photos can be enlarged
Blank discs for Andy Gard with a diameter of 165 mm were sold in the late 50's at a price of $ 2 for 5 pieces, and the recorder itself cost $ 14.95
In the kit there were perfectly preserved batteries type "C". Interestingly, both batteries have a potential of 1.4 volts, but of course they do not give out current.
On the copier disk, there is a round protrusion on the underside, which is inserted into the corresponding hole in the disc to prevent slipping
The tip of the cutting needle is in good condition, it is made of hard alloy.
User's manual Andy Gard Home Voice Recorder model 900
I also recommend to see an informative advertising picture, she is here