Globe-Corder GT-101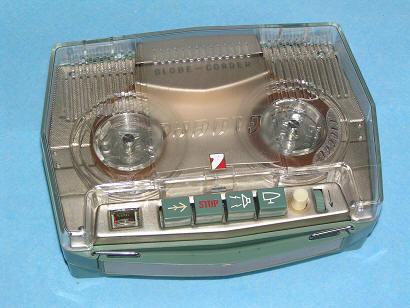 Used Google translator
Globe-Corder GT-101. Japanese portable tape class "Super-De-Luxe" company "Global Mfg. Co. ". Produced since 1961. Dimensions 225 x 173 x 76 mm. Weight 2 kg with batteries. Engine Power - 6 v, four batteries S. Power wiring - 9 v, battery type PP3. Speed tape stabilized. Coil diameter 76 mm (3 inches) can hold the tape 30 minutes of work at speed of 3 3/4 inches. Circuit collected 6 transistor type 2SB73 (1 pc.), 2SB75 (3 pcs.), 2SB77 (2 pcs.). By all accounts, this is the full tape, but without the fast forward. The device is made thoroughly and accurately. Housing and all plastic parts are made from high quality plastics and machinery looks solid. In the kinematics of a lot of metal, and also all done qualitatively. However, the very design of the kinematics corresponds to his time with all known defects. In particular, traffic on the rubberized flywheel is transferred directly from the engine, and engine vibration transmitted to the capstan. In the kinematics no belts, everything is done on rubber rollers. In this regard, I have a problem. The recorder apparently did not include many years, and at those places rubber rollers, where they clung to the metal rollers, indented. Such a defect in the rubber is very difficult to remove, but I almost succeeded. In general, the apparatus makes a good impression, it is clear that this is not a cheap toy. Its pleasant to hold in their hands. Special solidity adds a handsome leather case, good quality. Management modes, four buttons. There is a lock button record turnout and the power indicator - the level of writing. The volume control also performs the function of the regulator level records. In the side panel of the housing has connectors for a microphone with remote control, and line-out jack.
The device was bought in excellent cosmetic condition, but a failure. To bring it into working condition necessary to replace the output transformer, and some dried electrolytes. Also had to repair the kinematics, but as I have told. Now the recorder is in working condition. Included with the tape recorder was also - a leather pouch for accessories, a new strap for carrying on his shoulder, earphone, cable records, instruction manual, and unused sealed branded battery "Global".
Photos can be enlarged
During repair required replacement of some electrolytic capacitors. To preserve the original look of the electronics board, I disassembled the old capacitors, and inserted into the new capacitors correct size and rating. The result is a capacitor very similar to the original. In the photo below shows the process of modernization.
The photo below is a converted par value capacitors 30 mfd 100 mfd.
Manual Globe-Corder GT-101