Norelco LFH 0085/54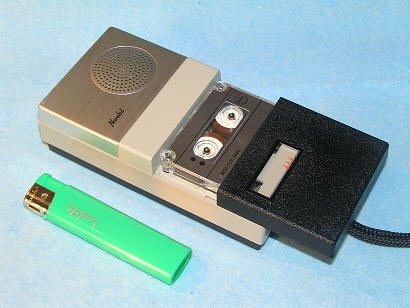 Used Google translator
Norelco LHF 0085/54. Portable mini-cassette recorder (Pocket Memo). Performed in Austria since 1967. Dimensions 125 x 65 x 35 mm. Weight without batteries 300 grams. Power 9 v, battery type PP3. Mini-cassette recorder used in this differs from the modern micro cassettes. Its dimensions are almost the same (56 x 34 x 7 mm), but there is no hole for the capstan. capstan and pinch roller in the recorder are absent, and the belt speed is not stable. Nevertheless, the ear is almost non-existent. Fast-forward is missing, but there is rewind. Kinematics is a fairly simple, but is made in the Austrian quality. Circuit collected eight transistor type AF124 (2 pcs.), BC108 (2 pcs.), BC172 or BC209 (1 pc.), AC127 (1 pc.), AC187 (1 pc.), AC188 (1 pc.). The recording quality is satisfactory, but with such a complex the circuit could be better. As the erase head is used a permanent magnet. Dynamic capsule, which is used in the recorder combines the functions of the microphone and speaker. There is a connector for an external microphone or headset.
The device has been bought complete with an original box. To bring it into working condition necessary to replace the belt.
Photos can be enlarged
Jack for connecting an external microphone, closed with a decorative cap.
Key management has two modes of provision. The photo on the left enabled for playback. The photo on the right in reverse. Record Button is located at the edge of the back cover. Between them is the engine lock keys.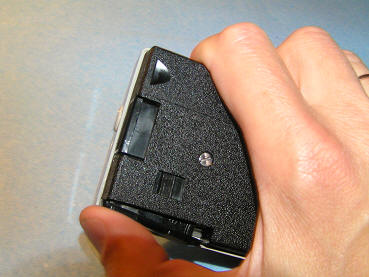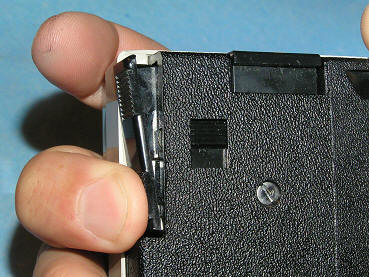 The photo on the left recording mode. The photo on the right original packing box.