National RQ-8100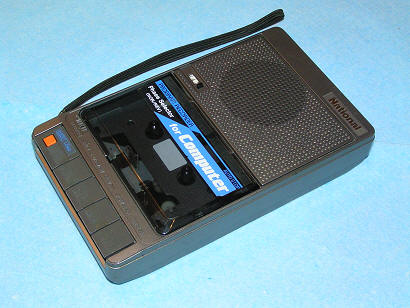 Used Google translator
National RQ-8100, Cassette Program Recorder. Made in 1985 by "Matsushita Electric Trading Co., Ltd", Osaka, Japan. This is a portable cassette recorder, which could also be used as magnetic storage for computers. Dimensions 202 x Tape 119 x 40 mm. Weight without batteries 600 grams Power 6 v, four AA batteries or the mains power supply. I do not know how much digital information can fit on a compact cassette, apparently, by modern standards a little, but then the computers were not like now. Wiring the recorder is collected on a single chip type BA526, and four transistors D636. Kinematics is very simple, but there hitchhiking. The instructions contain information on the parameters.
The device has got to me in a good working condition. Quality of recording - playback is good. Outwardly, he also remained very good, even has the original packing box, and instruction manual.
Photos can be enlarged
The inside back cover has information about the manufacturing date, 26/07/1985.
Instruction manual tape National RQ-8100.