Answer triple corder ATR-102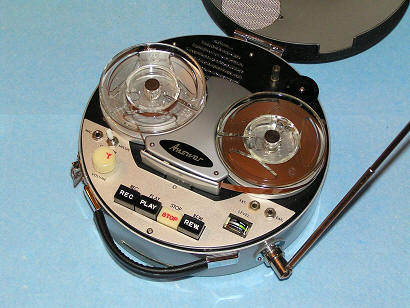 Used Google translator
Answer triple corder ATR-102. Portable device, three in one, combining the functions of a tape recorder, radio and record player. Made in Japan, probably in the mid-60's. Dimensions 200 x 90 mm. Weight: 1,7 kg (without batteries). Nutrition 4,5 v, three batteries D (UM-1). In the tape used the coil diameter of 85 mm (3, 1/3 inches), and standard tape width 1/4 inches. The tape is moving to the right - left. Duration of recording one track 10 minutes (tested experimentally). Further, the coil can be reversed, and continue recording. The velocity of the tape is not stabilized. Movement from the engine is transferred to the reel table through an intermediate roller. For playing phonograph records stand provides 110 mm in diameter. It is screwed onto the shaft reel table instead of screws designed to secure the coil with tape. Removable tone arm, 140 mm, has a connector (Jack 3,5 mm), which acts as a rack and inserted into the slot "EXT". Enable by pressing the button "PLAY". The player can play the disc with a diameter of 175 mm (rotation speed 45 rpm). Includes a plastic adapter for playing records with a diameter of inner hole of 38 mm. At the top of the unit are control buttons, switch the recording mode from the receiver into a tape recorder, pen receiver tuning, volume control - the recording level, switch level indicator and record battery voltage, and connectors (Jack 3,5 mm) for a microphone "MIC", Headphone "EAR", and input jack "EXT". Also on the left side there is an additional microphone jack. Your right side is non-standard connector for the antenna. To enable the receiver to insert the antenna connector, aligning the key slots, and turn it clockwise. In this case, the pusher connector antenna clicks on the stock switch, transforming the device into Radio mode. Enable by pressing the button "PLAY". The receiver has a range of medium wave (535 - 1605 kHz).
Wiring the unit collected at 8 transistor type 2SB172 (2 pcs., Power), 2SB171 (2 pcs.), 2SB175 (1 pc.), 2SA101 (2 pcs.), 2SA102 (1 pc). In this regard, it is not clear what it means to the inscription on the cover - "7 Transistor radio & 5 Transistor taperecorder". Apparently, the producers decided that it is possible to calculate, since some transistors used in both schemes.
Workmanship and appearance of the unit are good, original design makes a good impression. The seller stated that the tape completely new. And so it proved to me they did not use none, all were packed in their original packaging. To restore functionality needed lubrication mechanics, and the replacement of dry electrolytic capacitors, and then restore all functions. Of course it's not Hi-Fi, but it's a toy, and works well.
Video review
Photos can be enlarged
When storing the needle is locked metal cover
In the photo on the right knob radio
The battery compartment is fixed with two screws
In the photo on the right variable capacitor and the radio knob
The unit arrived in original packaging and in complete set. Included were crystal microphone, earphone, antenna, three batteries D (UM-1). In additional leather bag were - User manual, rack of shellac, the adapter (38 mm), and a removable tome arm. Also in the bag has a pocket for storing records
Original Batteries
On the inside of the lid a sticker on using an antenna
Manual Answer triple corder ATR-102