Radio and turntable Mriya (ћрi€)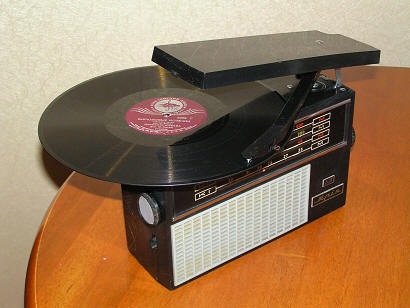 Used Google translator
Mriya - Soviet portable transistor radio and turntable. This specimen was made in 1968, and it was probably started on the 67th. The functional design is very attractive, except for the record player there is a receiver with two KW bands, plus LW and MW. Dimensions are quite compact 270 x 165 x 87 mm, weight without batteries is only 1.9 kg. The appearance is also quite decent, there is a good cover, there is even a cover for a metal disc-stand, which is conveniently fastened with straps when carrying.
All this works quite well, but my specimen has a serious drawback, an unpleasant timbre of sound. The volume is good, no distortion, but the sound is like a can. Through good headphones the same, that is, the speaker is not to blame. Perhaps other such radio receivers sound normal, and there is a defect in my device that I have not yet found, but if it is not, then it's sad, since the design as a whole is good.
The wiring diagram is assembled on 9 germanium transistors, see the bottom of the page. There are no remarks on the mechanics of the player, it's done normally, there are three speeds, 33, 45, and 78 rpm. The metal disk included in the kit is installed under the plate, and in addition to the function of the stand, it acts as a flywheel. At all three speeds, the movement is uniform and stable. Of course, for the power supply of the engine required and the corresponding batteries, there are used 6 elements of type D. They significantly heavier the design, and according to the passport its weight with the batteries is already 3.6 kg. All the parameters of the radio are in the instruction, which is located at the bottom of the page. The device went to me in working condition, only preventive maintenance and some cosmetic works were required.
Photos can be enlarged
A disc-stand with a diameter of 174 mm, and a thickness of 2 mm weighs 370 g. For this design, this is a really useful thing. Without it, even a small diameter disc is held unsteadily on a small table
The photo below shows how convenient the disk in the case is fastened to the cover of the radio
Externally, the electronics board looks pretty decent, no traces of interference
Rubber rollers of course from the time zadubela, but still able to perform their functions
The motor with a centrifugal regulator. It was necessary to carry out its prevention
Operating instructions for the radio "Mriya" (ћрi€)
Schematic diagram of the "Mriya" (ћрi€) radio