Pocket Corder Sanyo MC-2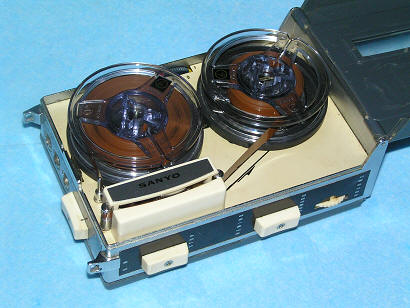 Used Google translator
Pocket Corder Sanyo MC-2. Japanese portable recorder 60-ies. Also manufactured under the name "Channel Master Small Talk 6473" and "Craig TR-408". In size and characteristics can be compared with AIWA TP-60R, but inferior to him in appearance and developmental work of the design. Dimensions 140 x 90 x 54 (without protruding parts). Weight 800 g. Used the reel for a tape with a diameter of 63 mm (2.5 inches). Kinematics is very simple. Traffic on rubber reel tables transferred from a vertically located between the motor. Depending on the inclination of the engine, its shaft about one of the reel tables, and carried the movement forward, or rewind. Mode control is carried out using the slide switch located on the two side surfaces of the shell. The shell itself is made solidly, the basis of its cast, aluminum alloy. On the front side of the case has 3 connectors (3,5 mm) for the headphone and microphone with remote control. Wiring for 4 transistors (2 x 2SB186, 2 x 2SB187) provides a sufficiently loud playback on built-in speaker, which is located in the bottom of the hull. Rather than erase head is used a permanent magnet. There are also volume and speed of rotation of the engine. Dining - 6 v, four batteries. The battery compartment is made in the form of cassettes extendable from the rear of the hull, and has a locking mechanism. In general, the recorder though simple, but quite suitable for dictation of text. Its analog "Craig TR-408" in an advertising brochure and called, electronic notepad. The device was bought in working condition.
Photos can be enlarged
Instructions for a similar model "Channel Master", found on the Internet.