Mohawk Midgetape 44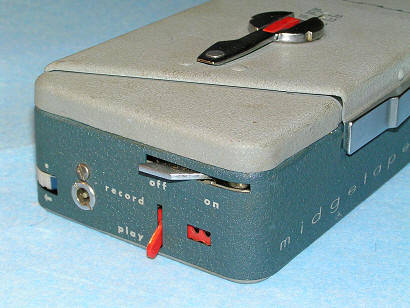 Used Google translator
Mohawk Midgetape 44 (BR-1). The very first of a series of recorders Mohawk Midgetape company "Mohawk business machines corp. Brooklyn 33. N.Y. ", USA. It produced since 1955, and was worth $ 249.50. In 1954, it was announced, and promised to sell at $ 197.50, but in 1955 it had advertised with a price of $ 249.50.
In the photo from left to announce in the magasine "Tape Recording" №8 of 1954, further advertising in the same journal in 1955. However, in the August issue of "High Fidelity Magazine" for 1955 it had advertised with a price of $ 229.50 - pictured right. Perhaps the price of different complete sets.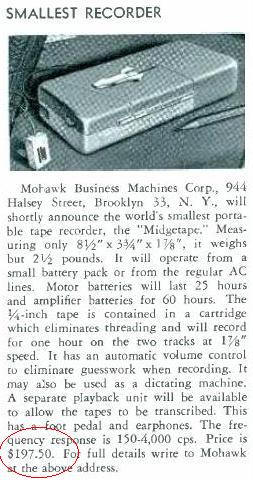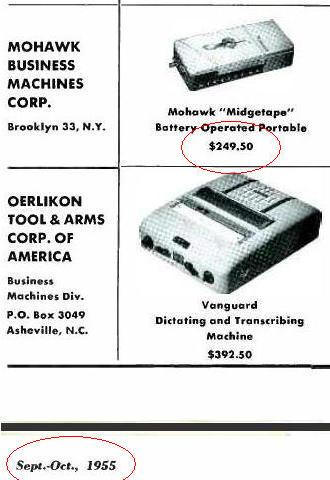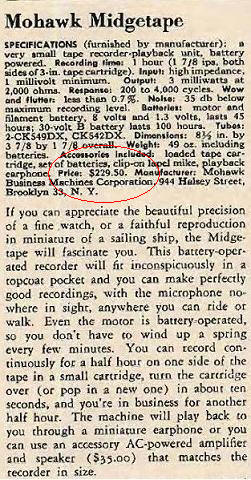 Later models were made Midgetape 300, Midgetape 400 and 500 Midgetape "Professional". Model Midgetape 44 originally sold under the name Midgetape BR-1, and on my copies made in 1956, there are both markings and Midgetape 44 and BR-1. Structure and kinematics of all models are nearly identical. Read more about this in the description Mohawk_Midgetape_300.
The main feature of Midgetape 44 is that its wiring diagram is made on radio tubes. In this amplifier uses three subminiature radio tubes XFY54 (1 pc.), And XFW40 (2 pcs.). They are inserted into the five-contact socket, mounted on a ceramic (steatite) plate measuring 25 x 24 x 1 mm, which is in turn soldered to the window textolite board amplifier. On the ceramic plate are also planar capacitors and resistors amplifier circuit. In fact, the whole amplifier is built on this ceramic plate, and textolite board placed only a few minor details. For 1956 all performed very technologically. All ceramic capacitors amplifier, and the circuit no electrolytic capacitor. Since the recorder tube, it requires three voltages, 9 v - for motor, 1,5 v - for a filament of radio tubes, and 30 v - anode voltage. In fact, these radio tubes designed for the anode voltage 15 - 22 v, and to have enough battery 24 v. Homemade battery, which I have made instead of the original is made of two batteries of 12 v, type MN. Also in the recorders could be used in radio tubes - type counterparts CK542DX and CK549DX, or CK525AX and CK512AX..
Kinematics of the recorder is very simple, but provides a stable speed of the tape. Fast forward is absent, and rewind by using flip handles, located on the upper lid. Versatile and erase heads are united in molded monoblock. To connect a microphone uses a round connector and headphone jack and output cable - simple two-contact connector without a key. Built-in speaker in the recorder there. As an accessory to the recorder sold to the external amplifier - the speakers.
Mohawk Midgetape 44 (BR-1) with an external amplifier - speaker (photo from Internet)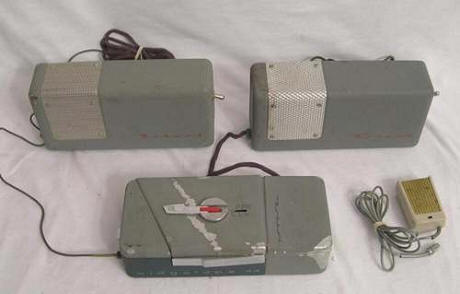 The device was bought in a faulty state. The sound was, but very weak, and amid loud crackling. Repair was quite difficult, but I managed to find the faulty capacitor on a ceramic board amplifier. In the process of repair, I checked the radio tubes, and tried to pick up their analogues. It turned out that the scheme works fine with the Russian radio tubes 06P2B (analogue XFW40) and 1P3B (analogue XFY54). In this case the frequency characteristics of the amplifier to improve. Kinematics was almost a working, required only lubrication of bearings, and replace the rubber belt unit rolling. The main belt, made of coiled steel spring, I do not have to. Currently, the recorder works perfectly, as new. Externally, the apparatus is preserved very well, and mechanics was also a little worn. Apparently they are not used for a long time, most likely he quickly broke down, and forgot about it.
The recorder came with the original batteries. One of them - b-battery 30 v, such as Eveready № 506, the other - the battery of the engine and glow of tubes, such as 2X62X Burgess. This battery has three contacts, one medium - common (-), and two side with voltages + 9 v, and + 1,5 v. New same battery, I gathered from six batteries AAA, and one AA.
Also included with the recorder I got the original cassette (cartridge), the original crystal microphone, unfortunately failed, and the connecting cable to connect to an external amplifier. The tape has an unusual design with the coils located one above the other. Her body and all the details in full metal. Tape, 1 / 4 inches short of 1 hour of recording (2 x 30 min.). At a speed of 1, 7/8 inches per second.
Dimensions recorder 220 x 100 x 55 mm. Weight complete with batteries and tape - 1,3 kg. Net weight 0,9 kg.
Photos can be enlarged
The photo on the left of the apparatus with the original batteries. In the photo on the right improvised.
On the left picture view of the apparatus below. One can see the two screws fixing the kinematics to the shell. In the larger picture right is marking the date of manufacture - NOV 23 1956 OK
Dimensions without motor centrifugal regulator - 49 x 28 mm
Electric motor speed regulator on the lamp with filter. It is located in a metal box near the electric motor
The original radio tubes. Longer - XFY 54 (32 x 6 x 8 mm.). Two short - XFW40 (27 x 8.5 x 6 mm.)
Tubes

1P3B

and 06P2B

-

Soviet

counterparts

XFY54

and

XFW40.

Passport

size

38

x 10.2

x

7.2 mm

and 32

x 10.2

x

7.2 mm

.

The actual

dimensions of

37

x 10 x

6.7

mm and 30

x 10 x

6.7

mm.

Similar

Subminiature

radio tubes

from different manufacturers

vary in size.

Some of the

small

radio tubes

manufactured by

"Raytheon".

For example

, the lamp

CK538DX (

analogue

and

XFW40

06P2B

)

has dimensions of

just

25.4

x

7.2 x

5.6

mm and

it is

commensurate

with the size of

transistors.
.
When repairing the amplifier had to unplug the lamp module. On the left he is in his place, he pictured right unsoldered, and you can see an empty window in the amplifier board
On the ceramic plate located lamp socket, planar capacitors and resistors amplifier circuit. Such modules for hearing aids began to be produced in 1945, (the same in PDF) and during the war, this technology produced modules for military use. Look at the report on the symposium on printed circuits, which was held in 1947 in the United States.
Mohawk Midgetape

started producing in

1955,

such

as

subminiature

modules

audio amplifier

company

"Centralab"

started producing commercially in 1945

.

These photos

I found

in a magazine

"Radio & Television News"

of

August 1950

.

In addition to these

modules,

they are

ready

to assemble

the radio components

,

capacitors, resistors

on a ceramic substrate

in a miniature

version

, such as

such

Manufacturing technology is described in the magazine "Radio & Television News" №12 for 1949. Conductive tracks on the ceramic substrate made by photo printing emulsion with silver powder and fusing in a furnace. The resistors were formed by applying to a substrate through a stencil graphite resistive paint, followed by firing in a furnace.




As can be seen

,

the recorder

module

is very similar to

that described

in the

magazine

"Radio & Television News"

of

August 1950

, but there are

some differences

.

In fact

there were several

modifications

in the

illustrated

magazine

module

"

PC

-

201

Model

2" and

in my

recorder

module is used

"

PC

-

203

Model

3" or

"

PC

-

20

5

Model

3

"

,

which

have the same

circuit.

Description

of the amplifier

module

"

Ampec" from the catalog

"Allied Radio"

for

1952

.

There is also a

description and

other modules

manufactured

by this technology

.

In

"Centralab Catalog №

29

"

shows the

prices for all

models of these

amplifiers.

Modules

PC-

200

, PC-

202 and

PC-

204,

sold

without the

vacuum tubes

and the

model

PC-

201

, PC-

203 and

PC-

205

supplied

with

radio tubes

,

respectively,

and

they cost

differently.

I must say that

such prices

at that time

were

not

small.

For comparison

, for example

a stationary

reel tape

cost about

$

100

.

The original

scheme

of the recorder

at the time

I did not have

, but

it

completely

and

I

did not need

, since

he

was only a

faulty

lamp module

.

During the

repair

I made

sketches

of his

scheme

, and now

brought them to

order and

make a normal

picture.

Accurate

resistor values

.

The values of

the capacitors

are approximate

, but

it is not critical

, since

such schemes

normally work

with a large

spread

of denominations

and resistors

and capacitors

.

On the

enlarged

picture

everything

in sight.

The circuit

modules

"PC-

203

Model 3

"

and

"PC-

205

Model

3",

presented in the

"Centralab Catalog №

29

"

is slightly different

from the one

I

drew

.

Also in the catalog

indicates

the use of

the lamp module

CK512AX, CK547AX, CK548AX, CK549AX,

DX, but

are not mentioned

CK525AX, CK542AX, DX, XFY54

and

XFW40,

which are also

used

in them

.

This could mean

that in addition to

basic

and other

modifications

were

not listed

in the directory.
Schematic diagram Mohawk Midgetape 44 (BR-1) of the service manual, which I recently managed to acquire. I scanned it, and placed at the bottom of the page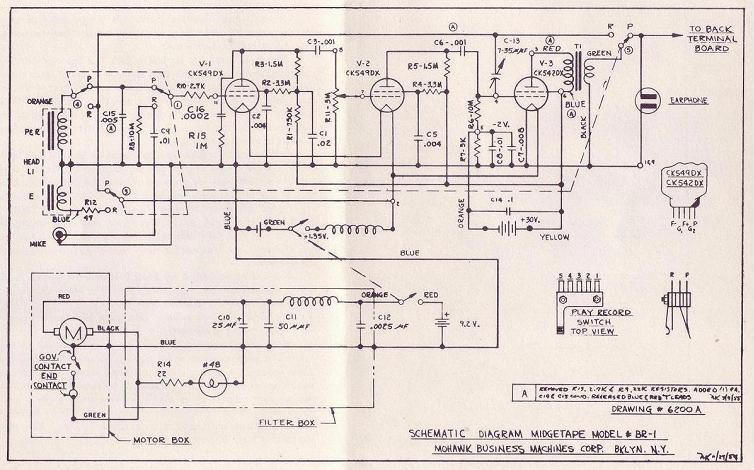 Another version of the three radio tube amplifier module "Centralab", but with the volume control and output transformer. Photos from the magazine "Radio & Television News" №12 for 1949.

Actually, it turns out that such a portable tape recorders could appear much earlier, back in the 40s. Technology tape recording time has already been, and everything else, mechanical parts, engine and compact batteries is not a problem in the manufacture and sub-miniature radio tubes began producing commercially in 1940. This example CK501X, CK502X, CK503X, CK504X production of Raytheon. The truth is the first such lamps were somewhat larger than it is now - 39.7 x 14 mm and in the version with base, they became even greater. The marking lamp base absent index X, - CK501 ... CK504.
The first mention of these lamps I have found in the catalog "Allied Radio" in 1940

The last advertisements of the lamp in a version I found in the "Radio Chack Catalog" for 1945. Please note that for five years the price has not changed
However, at the same time it is made smaller radio tubes index AX

Familiar sizes today have lamps "Raytheon" with the AX index, which began to be produced during the war.

It is in this version like radio tubes have become very popular and widely used in the future of diverse radio equipment, even in aviation and space.

Subsequently, similar lamps made even smaller sizes, such as radio tubes

DF64, DF651,

CK538DX is measured only 25.4 x 7.2 x 5.6 mm.




I should add that the use of such lamps in the portable equipment first mastered in Germany.

In 1951 we began to produce the first "pocket" wire recorder "Minifon Mi51", assembled in three subminiature lamps type DF67 and DL67.
Original battery type 2X62X. Dimensions 60 x 55 43 mm. Weight 210 g.
The battery is assembled with 14 elements, covered with resin.
Homemade battery made of six AAA batteries, and one AA batteries. For the manufacture of cardboard boxes used a scanned image of the original.
The original battery 30 v such as Eveready ¹ 506. The sizes 35 х 29 х 15 mm. Weight of 25 g. The battery is inserted into the steel container, and squeezed it flat shaped spring.
Homemade battery 24 v is made of two batteries of 12 v type MN. To supply anodes 24 v enough, since they are calculated on the anode voltage 15 - 22 v.
The original tape unassembled. The body and all parts of iron, and coils located one above the other. The width of the film 1 / 4 inches. Hours 1 hour (2 x 30 min).
Connection cable for connection to an external amplifier. Has a shunt resistance of 2.2 kom.
Crystal microphone and the original packaging. Unfortunately, it turned out to be defective. Capsule microphone consists of an iron shell with aluminum membrane, under which the crystal. After opening of the membrane revealed that the crystal was destroyed. Crystal Repair I used from another microphone. Now the microphone is in working condition.
Service Manual recorder Mohawk Midgetape BR-1
The construction of all types of recorders Mohawk Midgetape same.