Detective Dictograph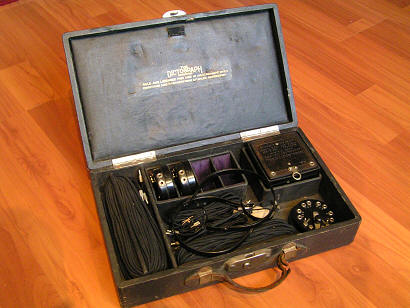 Used Google translator
Detective Dictograph - Set for eavesdropping conversations. Produced in 1907 by "General Acoustic Company, New York, USA". There is information that the device received this name in 1910, when the demand for this product was determined by the police, special services, and detectives. The demand was so great that the manufacturer could not cope with orders, and the results of its application were very good, and allegedly with its help many crimes were discovered and proven.
The oldest exhibit my collection, and holds a special place. Despite its venerable age, everything is in good working condition . suitcase outside for 100 years, of course shabby, but inside all preserved in almost perfect form. Surprisingly excellent state of the wires, because they usually wear out first. It is well preserved as the original description of the scheme included. The kit consists of two different constructions of microphones, headphones with two holders, the switch with stepped volume control, and a set of connecting wires with lugs, different length and destination. All this is packaged in a wooden suitcase lined with leatherette. Outside there is a leather handle and a steel lock with a hole for the key. Dimensions 335 x 200 x 85 mm. Weight kit assembly 2.3 kg.
Photos can be enlarged
Demo video
Probably, Detective Dictograph was the first mass-production for covert listening device, and use them at the time could anyone, from detectives and security services to individuals, because the law does not prohibit. The restriction was only a mere possibility of owning it, because its price was high. With average annual earnings of $ 750, it cost $ 125, representing a two-month earnings of the average American. It was also possible to rent it for the price of 6 $ per month.
The principle of the device is well understood from the scheme. The battery feeds the chain microphone - earphone, among which included a switch with stepped volume control. This standard battery "General Acoustic Company" of little more than 15 minutes of operation. Nevertheless, for 1907 it was very technologically advanced and invention. Its author is K. Monroe Turner.
Using the device was pretty simple. For example, to listen to the neighboring room, had to hide in one of its microphones, and connect its long wire with a switch in another room. To switch the jacks connected earphones and battery. Range is naturally limited by the length of the wire. The set has two shuttles with long wires 10 and 20 meters.
One of the microphones, a rectangular shape, made of Bakelite, has a resistance of 500 ohms, dimensions 85 x 85 x 25 mm and weighs 135 g. One side of it there is an inscription "Turner Dictograph", while the other is information about the manufacturer and patent - "General Acoustic Company Jamaika, New York City Made in USA. Patented Feb.5.1907 Feb.19.1907 Dec.17.1907 Other Patents Pending ". In the upper face of the available sockets for connecting wires, and next to them screwed ring for mounting on a vertical surface. Second microphone, in a round metal casing, has a resistance of 500 ohms, dimensions 58 x 20 mm, and weighs 70, at the rear side of the screwed connection jack, and a ring for fastening.
In the photo below the design of a carbon microphone. In the graphite washer there are 6 hemispherical chambers filled with graphite balls, and the membrane is located so that there is a small gap between it and the graphite washer.
Switch circular has dimensions of 68 x 20 mm and weighs 90 g. nor any other labels, but labels terminals, it is not. In a stepped volume control used wire resistors overall resistance of 50 ohms. The photo can be seen spirals of wire without a skeleton.
Both headset of the same design, but have different resistance windings, 11 ohms and 15 ohms. Apparently this error in production. Otherwise, they are absolutely the same, have a metal housing with a switch on the back side. Diameter 58 mm, Thickness 24 mm, weight 130 g. In a set there are two sets of wires to connect the headphones. One is designed to ensure that both headsets used one man, the second allows you to spread the headphones at distances up to 1,5 m items in suitcase distributed offices, and a headphone is a separate box. Microphones are placed in a rectangular compartment, one above the other and separated by a rectangular carton with the tongue of the tape. In the upper lid of the suitcase inside is also a Reed, pulling that can open an office in which to store a description of the scheme included. On the cover of the office marked embossed gold inscription "The dictograph patented. Sold and licensed for use in accordance with conditions and restrictions of sales agreement ".
Of course it is clear that 1907, this is not a stone age, and then there were already quite serious technologies, but nevertheless the thing makes a strong impression, including the fact that it was made more than one hundred years ago.
User's manual Detective Dictograph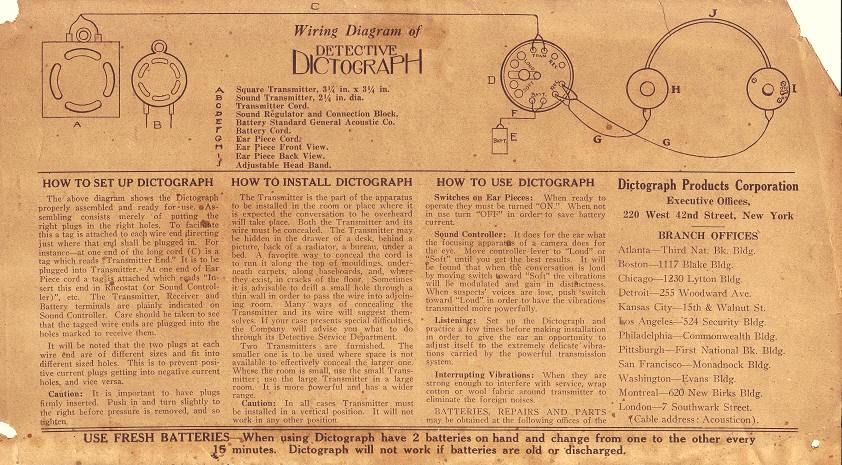 Old photos showing the use Dictograph