Telmar T-100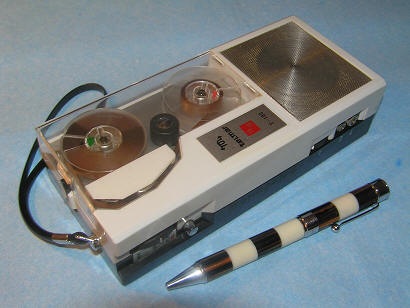 Used Google translator
Telmar T-100. Portable reel tape recorder, manufactured in Japan in the 60s. Dimensions 190 x 86 x 47 mm. Dining 6 v, four AA batteries. For recorder so small size, the design is rather complicated. Speed tape stabilized. 15/16 Figures in red square means the rate of 15/16 i.p.s. Circuit collected 8 transistors and two transformers. Five transistors used in the amplifier (2SB257 - 1 pc., 2SB54 - 2 pcs., 2SB56 -2 pcs.), one in the generator (2SB54), and two in the stabilizer speed of the motor. Stabilized rate deserves special attention, because it has a rotating speed sensor. Shaft sensor has a movie, which is constantly pressed to the rubber flywheel. The movement from a horizontal engine is transmitted directly to the rubberized flywheel, and then through the node belt winding. Unfortunately, there is only rewind. If the designers worked hard to implement and fast forward, then a whole apparatus would be simply outstanding. All done very high quality, meticulously, and of good material. Rubber rollers elastic, like a tape recorder, just from the factory. All the mechanics of fully working, and neither of the wear is not noticeable, though, as the case shows that the apparatus used. In the recorder has a built-in speaker diameter of 5 centimeters, and connectors (3,5 mm) for the headphone and microphone with remote control. Erase head is real, and not a permanent magnet, as is often done to simplify the design. The speed of the tape is very small, 2.38 cm / sec, or 15/16 inches per second. Reel diameter 46 mm (1.8 inches) can hold the tape for 40 minutes (one side), and record this gives a rather qualitative. The general impression from the tape very positive. Stabilization of the rate is good, sound quality and loudness is normal, but the film lacks right on to 40 minutes. Design is also quite decent. Identical recorders were also produced under the name Jeco PC-104 and Mitsubishi Memo Pack.
The device was bought complete with a leather case and three sets of unused rolls of reel in the original plastic box. To bring it to working condition necessary to replace the amplifier input transistor, electrolytic capacitors and rubber belt.
Photos can be enlarged
Advertising Telmart-100 in the catalog "McGEE" for 1967.
Identical recorders were also produced under the name Jeco PC-104 and Mitsubishi Memo Pack