Norelco LFH 0095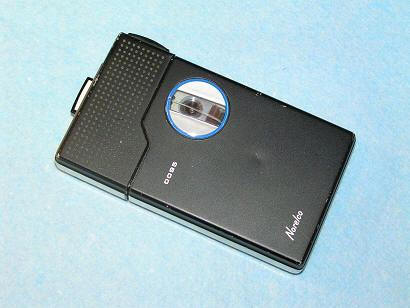 Used Google translator
Norelco LFH 0095. Portable minicassette recorder. Made in Austria, probably in the late 60s. It is known that minicassette, used in this recorder, Philips company began producing in 1967. Dimensions recorder: 120 x 68 x 22 mm (excluding protrusions) Weight 250 grams without batteries, power 9 v, battery type PP3. Minicassette, used in this recorder is different from the present microcassette. Its dimensions are almost the same (56 x 34 x 7 mm), but there is no hole for the capstan. Capstan and pinch roller of the recorder is absent, and the speed of the tape is not stabilized. However, on hearing it is almost not there. Fast-forward is missing, but there is a rewind. Office of the recorder by slide switch, up - play, record, Down - Backward. Moving the switch in the transverse direction is blocking it. Record button and volume control are on the top edge. To access the tape must move the cover down until it snaps into lock to access the battery compartment is necessary to remove it completely. The cover has a window for observing the flow ribbon.
Kinematics of the recorder is quite simple, but is made in the Austrian quality. Wiring is collected on a single chip and a few transistors. This erase head (not a permanent magnet), jacks for connecting external devices are absent. In the kinematics used a belt, and once replaced the recorder began to work normally. The voice is recorded very high quality, legible, but not very loudly. The loss of volume associated with the drying of electrolytic capacitors.
Photos can be enlarged
Above right you can compare microcassette and minicassette.