Concord F-20 Sound Camera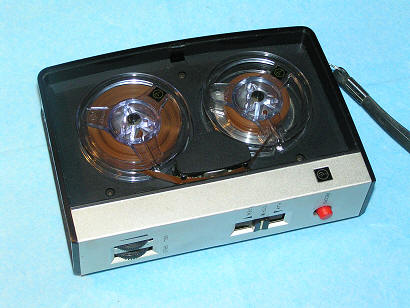 Used Google translator
Concord F-20 Sound Camera. Solidly made a tape recorder - a toy. Made in Japan in 1965. Dimensions 165 x 115 x 58 mm. Weight 700 g. Dining 6 v, four AA batteries. Coil diameter 63 mm (2.5 inches) can hold the tape at 15 - 20 minutes of work. The velocity of the magnetic tape is not stabilized, but there is a regulator. Wiring is similar to others used in similar recorders that time. However, the similarity parameters, F-20 stands out from a number of toys original design. In particular, reel table hidden under the deck, making it look like on a real tape recorder. In accessories, there is a microphone with remote control that allows convenient to use the recorder as a voice recorder. Design is nice, all the controls displayed on one end face of the housing, sealed aluminum cover plate. In general, F-20 looks good, but it works worse than the looks. He was sold at the price of $ 25.

The device was bought in working condition.
Photos can be enlarged
Operating Instructions Concord F-20 Sound Camera, found on the Internet.