Motorola M75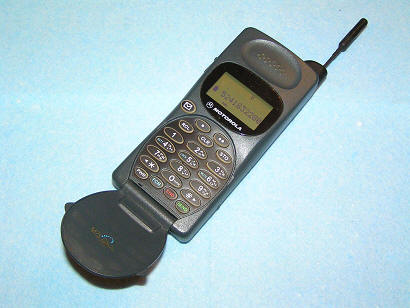 Used Google translator
Motorola M75. Mobile phone standard DAMPS. Made in 1997, probably in Canada. For its time the device was very successful. Use it was comfortable and large it seems only now, when mobile phones have learned to shove, even wristwatches. At the same time these dimensions were considered the norm.
Specifications found on the Internet:
Dimensions: 132x59x27 mm
Weight: 220 g
Connection standard: DAMPS
Talk time: 3,2
Waiting time: 50
Antenna: sliding
Battery: Ni-Mh
Form factor: with flip cover
Motorola M75's Display characteristics
Backlight: yes
Number of lines: 2
Motorola M75's Sound
Vibra and melody: yes
Quite dialing: yes
Melody number: 9
Motorola M75's Call control
Call retention: yes
Caller ID: yes
Motorola M75's User interface
Volume control: yes
Fast dialing: yes
Motorola M75's Organizer
Clock: yes
Alarm: yes
Calculator: yes

Motorola M75's Keyboard
Backlight: yes
Block: yes
Motorola M75's Communications
SMS: yes
EMS: no
MMS: no
Bluetooth: No
IrDA: no
EDGE: no
Motorola M75's Additional
Games: yes
MP3-player: no
Camera: no
Video: no
FM-radio: no
Java applications: no
Note number: 100
Memory card type: no
Photos can be enlarged
Batteries and chargers. Battery without the label original, came with the phone. Battery with the label was bought later at a certain market, probably Chinese.