Motorola 56L2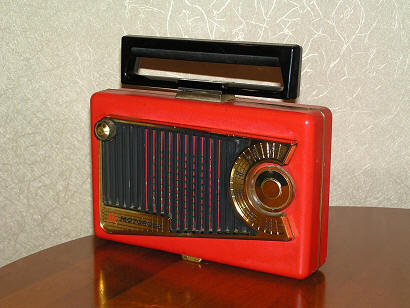 Used Google translator
Motorola 56L2. Portable tube radio - superheterodyne. Made in the USA by "Motorola Inc." in the mid 50s. Dimensions 260 x 165 x 75 mm without handle the weight without battery 2 kg. Power is supplied by two batteries. Filament - 7,5 v, Eveready Battery type 717, the anode voltage - 90 V, battery type Eveready 479. Also provided for the mains AC voltage 117 v. Wiring is collected on four types of radio tubes 1R5, 1U4, 1U5, 3V4. An interesting feature of this radio is that the ferrite antenna built-in carrying handle. For convenience, set the handle is made rotating in both directions by 90 degrees. On the inside back cover sheet is glued with a summary. Externally, the receiver is a nice, fairly well preserved, and is in working condition.
Video review of radios, including Motorola 56L2
Photos can be enlarged
Self-made a battery and their design. The battery 7,5 v is collected from five batteries on 1,5 v such as јј. The battery 90 v is collected from batteries such as PP3 (6LR61).
The receiver is lower a photo with original batteries (the photo are found in the Internet)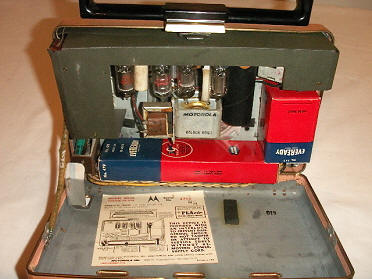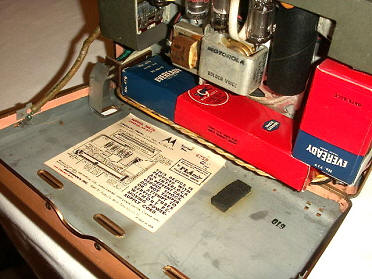 Electric circuit radio Motorola 56L2