Fi-Cord 101S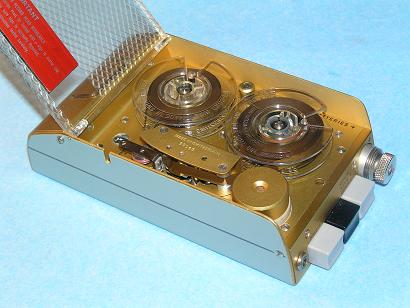 Used Google translator
Fi-Cord 101S. Portable reel tape recorder. Produced in the early 60s by УStellavoxФ, Switzerland.
Compared with most other similar devices of the time, made it a very high quality. It contains all the functions of the full tape, such as stabilization of the speed tape, fast forward and rewind, built-in microphone, he is a speaker, the tape counter. In the battery compartment has a stub jack (3,5 mm) for remote control. Among the enhancements provided an external amplified speaker to connect which has contacts in the edge.
Recorder dimensions 152 x 84 x 42 mm. Weight around 800 g. Power 3 v, two AA batteries. Coils with a diameter of 5 cm (2 inches) can hold the tape in 25 minutes of recording. The body is made of anodized aluminum, in Swiss style carefully, with lots of beautiful chrome-plated screws. Design of course is not modern, but not to find fault with anything, everything is thought out and functional. Kinematics is as good as the exterior. The original mechanism is made very high-tech. Such as a mechanic I've only seen in a series of voice recorders "Minifon", made in Germany from 1951 to 1962.
In the kinematics of the Fi-Cord used motor with electronic speed stabilization. The active elements of the stabilizer speed are two transistor AC153 and incandescent lamp, which also is an indicator of work. For her, made a special box next to the tape counter. In the kinematics using two rubber belts. One of the main, flat, transmits motion to the winding assemblies, and the original flywheel consists of two parts, rotating in opposite directions. In fact, this two wheel, one above the other on the same axis. Second belt need for tape counter. Very interesting pinch roller. It is made in the form of a flat pulley with him wearing a rubber ring. In general kinematics provides good stabilization of the speed of the tape.
For the accelerated deleting record the special rack with a magnet is stipulated. She is between coils and to take advantage, it is necessary to fill a tape in appropriate way. Erase head is also replaced the magnet, but for such a recorder that is enough. Fast forward and back is controlled by one button. To use it required some skill, as well as the speed and direction of the fast depends on the depth of its pressing. All buttons 3 - listen (playback), record (write), forward & back winds (fast forward and rewind). In order to fix any buttons down the need to push it forward until it stops and down. Such simplicity is not perceived as a nuisance.
In general, the mechanics are fine, which can not be said about electronics. Such a simple electric circuit I have not seen in any known to me the recorder (except Tinico). Amplifier is built on three germanium transistors (ES3124 - 1 pc., ES3125 - 2 pcs.) And one transformer, not including capacitors and resistors. The quality of the microphone (he is a speaker) leaves much to be desired. Sensitivity is not enough, and for the normal recording is necessary to use an external microphone. As a speaker he is too weak. To hear something, we must hold it directly to the ear. It is better to use headphones. Incidentally, the volume control in the scheme is not provided. In general, given a good stabilization of the speed, quality of voice recording can be considered good.
In order to bring the machine in working condition required replacement dry electrolytic capacitors, and a rubber ringlet pinch roller. Also had to clean the battery compartment, which contained mercury batteries flowed Mallory Duracell type ZM-9 to 1,4 v. Date of manufacturing on батарейках, unfortunately is absent.
Photos can be enlarged
Demo video
For recorders Fi-Cord 101 produced external speakers with a volume control and amplifier for three transistors (AC128 - 2 pcs., OC75) and one transformer. Photos of his design are located at the bottom of the page. Sounds like a mini speaker loud enough
In the photo below, the Fi-Cord 101 mini-speaker design with an amplifier
In the 1950s and 1960s, large-capacity mercury batteries were used. These batteries were in my recorder when I bought it. Of course they were with leaked electrolyte