Dictaphone model 848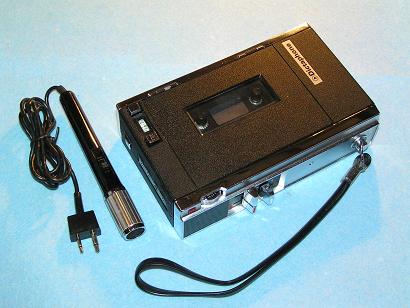 Used Google translator
Dictaphone model 848. Cassette tape recorder. Made in Japan by "Dictaphone Corporation" appears in the late 60's or early 70-ies. Dimensions 155 x 93 x 38 without protruding parts. Weight 750 g. Power supply 7,5 v, five AA batteries. Made apparatus soundly. Details of the kinematics Basically metal, but plastic rollers. The engine is located horizontally, transmits motion directly to the rubberized flywheel with tapered roller. Flywheel mass is connected with further kinematics belt. Second belt used for tape counter. Circuit 9 transistors (2SB22, 2SC537, 2SC693) provides a good quality recording - playback. Even three transistors assembled stabilizer speed. Externally, the apparatus also looks very decent. The thing is beautiful, and also equipped with a stylish microphone control.
The recorder was bought in a non-working condition, and after the autopsy inside everything turned out not so good as outside. Rubber coated wheel was completely destroyed. Rubber turned into something resembling a pitch, and dispersed in the quarter of the internal volume of a voice recorder. In the photo are clearly visible black smudges, it is the former rubber. Also destroyed were the main belt. It turned into a viscous mass, such as clay. In this second belt and rubber roller has remained in good condition. All this had to wash and scrub away a long time.
Also identical cassette recorders produced under the name Sanyo M-760.
Photos can be enlarged
Pictured right installed new rubber belts
Instead of rubber, I laminated flywheel new elastic coating of silicone sealant. Of course, ideally do so failed, and the uneven playing takes place, but for the demonstration of this quality is sufficient. Also some of the problems created a foam rubber pad on the electronics board. She stuck to the board, and turned into dust, which is filled all around during the repair.
Photo flywheel after cleaning, and after forming a new coating of silicone sealant.
Switching modes is carried out using the slide switches. At the edge of the shell are jacks for headphones and microphone control. Next to the tape counter is a button release the tape. Spring there are quite strong, and if you do not hold his hand, then the cassette is really thrown. There is also a switch to a temporary pause and light - LED battery discharge.
The device was bought complete with a microphone and leatherette cover. In the battery compartment were flowed batteries. Marking of the issue to them unfortunately no.
In the photo at the bottom right stabilizer motor speed
Also identical cassette recorders produced under the name Sanyo M-760. Photos from the catalog Sanyo for 1971