Dictaphone "OMEGA"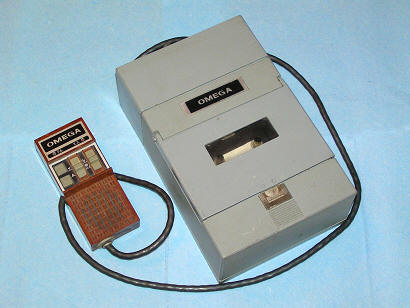 Used Google translator
Cassette recorder "OMEGA". Constructed in 1979 in the Soviet Union at the plant name Perovskii in Gorky (Nizhny Novgorod). Appointment of the recorder is not known, but it is made for use in all climates. Between all parts of the body mounted rubber gaskets, including the sealed lid, which closes the cartridge. The apparatus consists of two blocks of the main unit recorder and power supply, which are two of the electronics board and a cassette 7 battery type C (1,5 v). Control panel, which contains a microphone and speaker, is connected with a tape cable 55 cm units are connected sockets, and their cases are cast from aluminum alloy. The power supply is screwed to the block of the tape by two long screws. On the back of the PSU connectors are derived "In" and "Out", as well as switch the ALC. Weight without batteries recorder - 2.86 kg. Of these, the recorder unit - 1.97 kg, and power supply - 0.64 kg. Dimensions of the device 230 x 147 x 75 mm. Of these, the recorder unit - 170 x 147 x 75 mm, and power supply unit - 60 x 147 x 75 mm. Operation modes is carried out with the remote control with buttons and a slide switch. Dimensions control unit 125 x 55 x 30 mm. Weight control 220 grams. Operating mechanism kinematics is set in motion the engine type DPM. A second similar engine used for the tape drive directly. Audio of the main unit is made on two boards in the military qualitatively on the details of military acceptance. The scheme is quite complicated, there are chips.
Unfortunately, the machine is out of whack, and repair it without the wiring is problematic.
Photos can be enlarged
In the photo on the right is seen the motor speed sensor.