Color Portable VTR Akai VT-150
Page 2 of 2
Akai VC-150 Color Camera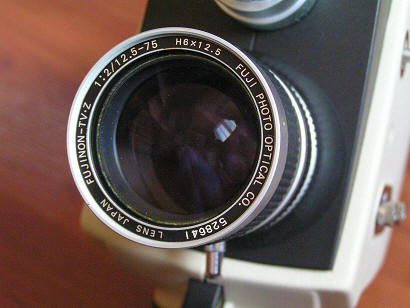 Used Google translator
Akai VC-150 Color Camera. This color camera has an original design by two vidicon. One of them, color dissector mounted horizontally on the axis of the lens. Second - vidicon luminance is angled 90 degrees to the first chamber in the handle, and the light is transmitted to it through a prism. Image from the lens hits the target color dissector through a complex vertically striped color filter, and the output signals of the tube contains a mixture of all three primary colors. After separation and conversion chrominance signal, it is mixed with the luminance signal to provide the composite video signal.
To reduce the size and weight of the camcorder, the video signal processing circuit placed in the casing of the recorder (two vertical boards along the rear end of the body). On the camera except the start button is a button White Balance (White Balance), switch for manual / automatic aperture control (Manual / Auto), and sensitivity switch automatic aperture - low / medium / high (Level 1/2/3). Iris control by an electric motor. If you aim the camera at objects of different illumination aperture ring begins to rotate to the desired value. Lens FUJINON-TV-Z 1:2/12.5-75 H6X12.5 varifocal not removable . Black and white viewfinder - CRT 1.5" in the viewfinder has a red LED indicating the recording mode. Electret microphone is located above the lens.
To set the white balance, it is necessary to point the camera at a white surface and hold the "White Balance" button for 3 seconds. The setting is stored for 30 minutes. Real-time configuration changes can only be observed in the video tape recorder connected to a color TV. Built-in camera viewfinder in black and white.
The camcorder is packed in a black leather case with logo AKAI. Facing suitcase it from time to spoil, but inside everything is preserved perfectly and the camera itself is in good working condition. With the included lens hood, eyecup with a lens for the viewfinder, two filter, and shoulder strap.
Dimensions of the chamber without lens hood and filters 310 x 235 x 88 mm. Weight 2.54 kg.
Specifications Video camera Akai VC-150.
Color System -


Vidicon Tube -



View Finder -
Recording Indicator Lamp -
Lens -
Aperture -
Scanning System -
Synchronization System -
Horizontal Frequency -
Vertical Frequency -
Horizontal Resolution -
Signal-To-Noise Ratio -
White Balance -
Ideal Subject Lighting Density -


Automatic Sensitivity Control Range -


Microphone -
Power Requirements -
Dimensions -


Weight -

NTSC (PAL) two tube Frequency Multiplex System
Luminance channel: 2/3" electrostatic focusing, electromagnetic deflection type vidicon;
Chrominance channel: Akai color dissector tube

1,5 type built-in electronic view finder
Built-in luminous diode inside view finder
6 x (12,5 to 75 mm) zoom lens, F2 to closed
Automatic and manual aperture systems
525 (625) lines, 2:1 interlace system
External synchronization system (utilizes VT-150)
15.734 (15.625) kHz
59.94 (50) Hz
More that 300 lines
Better than 40 db
White Balance Switch
1.500 Lux (Minimum Subject Lighting Density: 600 Lux using a 500 W Halogen type lamp at 2m)

600 to 20,000 Lux (ND-3 standard accessory: 2,400 to 80,000 Lux; ND-8 optional accessory: 4,800 to 160,000 Lux)

600 ohms non-directional electret microphone
DC 12V (supplied from VTR-150 or VA-150 adapter)
88 (W) x 235 (H) x 335 (D) mm (3,5 x 9,3 x 13,2") including lens hood and hang grip

2,62 kg (5,76 lbs)
Photos can be enlarged
IIn the picture below the image with a video camera, digitized on a computer before and after pressing the "White Balance".
The experiment was conducted in a room with artificial lighting. The camera was connected to a recorder while it is in the "Stop" button, and capture device is connected to the output of a video recorder. The camera image is transmitted to the output of the recorder to "Stop" and "Record".
Internal video camera impress. One of the two vidicons is a video camera in the handle
At the bottom of the lens aperture visible gear machine. Aperture adjustment ring is rigidly connected to a large gear, which it rotates. Natural lens in this video camera is not removable

Page 2 of 2