United Deluxe RN-5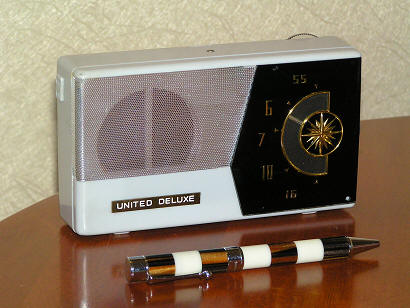 Used Google translator
United Deluxe RN-5. Portable tube radio - superheterodyne. Made in Japan by "Novel Dempa Co., LTD." in the mid 50s. Dimensions 167 x 97 x 45 mm, weight 0.6 kg without batteries. Power is supplied by two batteries. Filament voltage - 1,5 v, battery type C, the anode voltage - 67,5 V, battery type BL-045, or 45 v, Battery BL-030L. Wiring is collected on four miniature radio tubes type 1R5, 1T4, 1U5, 3S4. On the inside back cover sheet is glued to the wiring diagram and brief information. Externally, the receiver is nice, but just to assess the quality of his work was not possible to have broken ferrite antenna and volume control. After repairing the receiver is operating normally.
Video review of radios, including United Deluxe RN-5
Photos can be enlarged
Photos made before repair
Photos made in process and after repair
Homemade battery anode turned 72 v, and not 67.5. In the container at 4 AAA batteries fit 4 batteries of 12 v, and 4 batteries of 6 v of type MN.