Grundig DeJUR Execumate Stenorette 2000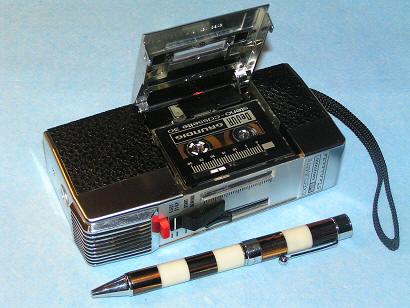 Used Google translator
Grundig DeJUR Execumate Stenorette 2000. Cassette tape recorder. Made in Germany in the early 70's. This apparatus is particularly interesting because it uses non-standard microcassette (Steno-cassette). Size it more modern microcassette, but much less compact cassette. It can record one track for 30 minutes at a speed of 2.38 cm / sec. The cartridge design does not allow to curl up and make a second track record, but it has a built-in tape counter. The counter has a complex structure, it uses a few gears and worm screw. Almost all body parts and plastic tapes. Dimensions 65 x 45 x 10 mm, Weight 23 g. gears and screw visible on the enlarged photographs. Also embedded in the cassette are contacts which are closed metallic coating on the tape at the end of winding. The contacts are on the lower side of the tape, and when it is inserted, pressed to the appropriate terminals on the recorder. During recording when the tape runs out, a warning is included on this tone. The same signal is also included in the case where the recording is enabled but no cassette is inserted.
Photos can be enlarged
In the photo on the left you can compare the sizes of cassettes of different formats. In the photo on the right contacts are visible in the lower right corner of the tape.
The front of the recorder located - microphone (also known as speaker), the engine will switch modes, record button, volume control, and a long window through which the visible indicator meter tape cassettes. At one end of the body is a miniature turnout battery power. On the other hand is the battery compartment for 3 batteries (or rechargeable) AA batteries. There are also connectors for headphones and external power supply. Dimensions recorder 150 x 80 x 38 mm. Weight 500g without batteries. Power 4,5 v. Versatile and erase heads together in the piece. The device produces a very good impression and appearance, and quality construction. The body is made of cast metal and good plastic. Inside and it looks very good. The design is complex, and performed in German quality. Works staff is also quite decent, pleasant sound, the microphone sensitivity is good, the volume is also lacking. Circuit collected 13 transistors. Two output transistor type AC187 and AC188, the rest BC238 and BC308. In this case the amplifier is used only 6 transistors, and the rest in the generator and the erasure in the scheme of motor control. Unfortunately the recorder is not forward, but at the time it was considered normal. Included with the tape recorder I got a dock, designed for mains voltage 110-220 v, three tapes, and original headset in a plastic box. In the dock there are two connectors, one for headphones, the appointment of a second is not known.
In the photo on the right are visible contacts include hitchhiking, or signaling the end of the tape.