Memocord mini K177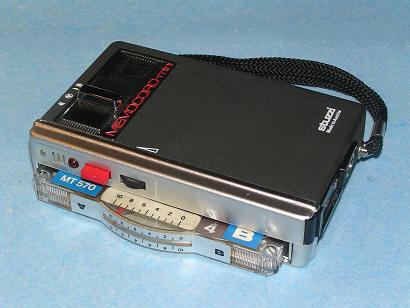 Used Google translator
Memocord mini K177. Portable cassette recorder company "Stuzzi GMBH Wien.", Austria. Made probably in the late 60s or early 70s. Dimensions 115 x 72 x 27 without protruding parts. Weight 300 g. Feeding 4,5 v, three AAA batteries. In the recorder can be used special cassettes MT550 (2 x 25 min), MT560 (2 x 25 min) and MT570 (2 x 35 min), and other similar tapes production companies "Assmann GmbH" and "Stuzzi Ges. MbH; Wien". These cassettes resemble modern compact cassette, but structurally quite different. In their building houses two coils with the tape, but without the usual holes for reel table. Instead, with one hand in case there is a window that opens access to the tape and the edges of the coils. When the cassette is inserted in the recorder, the edges of coils relate rubber rollers kinematics, which they and rotate. It is clear that the stabilization of the speed of the belt is missing. Dimensions Magazine 100 x 52 x 10 mm, belt width 3.81 mm. The quality of the recorder is fairly good, sound natural, and the instability of the belt is almost not noticeable. Apparatus pleases the eye a good design and the design is sophisticated and manufacturing. In the recorder has a volume control, connectors (2,5 mm jack) to connect a microphone and earphone, and the light indicating low battery. For the 60-ies, this recorder was undoubtedly outstanding.
Video review
Photos can be enlarged
Rotating lock battery compartment combined with a jack for a microphone.
From left to stop mode, the right recording mode - playback. To fix the engine must move into position, and move up.
Left enabled rewind, fast forward mode on the right. Fast forward and included only from the playback mode.
With the included leather case, a device for cleaning the head, and instruction manual.
Operating instructions Memocord mini K177