Dictaphone "Topaz D202"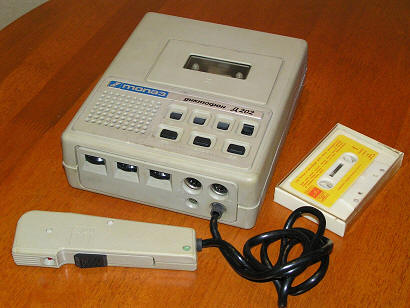 Used Google translator
Topaz D202. Unfortunately, I almost do not know anything about this recorder, who ordered this development, and who really used it. He probably did not have any purpose, and could use it anywhere, in editorial offices, libraries, police, the KGB, and other organizations. For example, Alexey Afonasov, who gave me this recorder as the leading engineer of NIKIET, used it as a computer drive . For such purposes, it is really well suited, since the management of modes is completely electronic. The presence of an adapter for recording from the telephone line provides other additional possibilities for its use.
The recorder has a good set of functions. In the microphone there is a switch of the main modes - recording, stop, playback, rollback. The microphone can also be used as a speaker, although there is a normal 0.25 W speaker in the recorder. Recording is performed from a microphone, telephone adapter, or from a line input. Playback is made to the line-out, microphone-speaker, standard speaker, or earphone TM-2. Also on the microphone there is a LED indicator for recording and discharging the batteries. It is possible to control from the foot controller.
The recorder has volume, tone, rollback, and slow playback speed controls. When the tape ends or breaks, a beep sounds, but there is no hitchhiking. The recorder is powered by 6 batteries type C, or from the power supply unit BP12 / 5 through the matching unit.
The device is really very convenient and functional, but for all this in 1985 it was necessary to give 590 rubles. The circuit of electronics is rather complicated, and in general the recorder does not look like an outspoken Soviet consumer goods, it is made from fairly neat. My voice recorder and now it's working fine, repair was not needed. In kinematics, 2 engines are used, one of which controls the mechanics of switching modes, and here, too, everything is working fine. ќсновные технические параметры:
The speed of the belt is 2.38 cm / s
The frequency range is 250 - 5000 Hz
The voltage on the line output is 250-400 mV
Slowing down the speed - 12-25%
Adjusting the rollback time is 1-5 sec.
The weight of the recorder with a microphone is not more than 1.8 kg.
Dimensions of the recorder - 211 x 174 x 64 mm
Other details about the recorder can be found in the instruction manual, which is located at the bottom of the page. There is also its electric circuit.
Photos can be enlarged
Accessories, power supply BP12 / 5, matching unit, and telephone adapter AT-1
The electric diagram of the dictaphone "Topaz D202"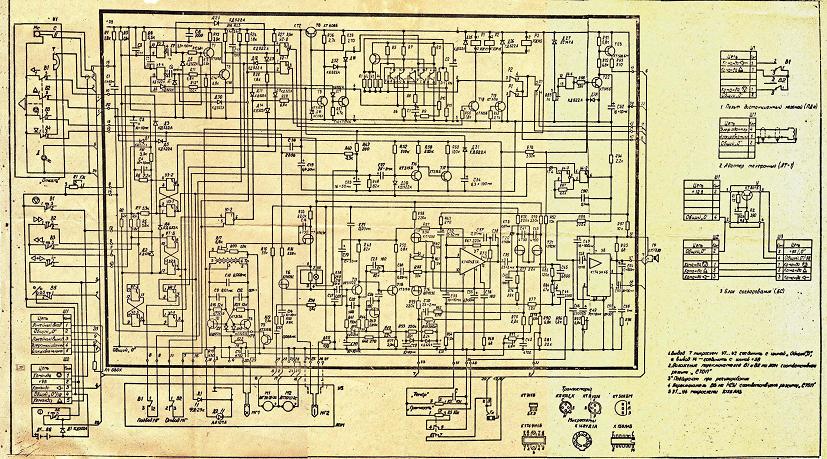 Operating Instructions for Dictaphone "Topaz D202"
Scheme of connecting accessories
Product label
Specification
Power supply circuit diagram
Power Supply Passport