Sputnik 401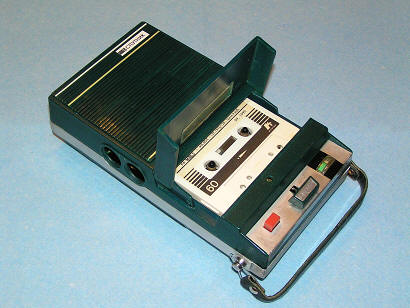 Used Google translator
Sputnik 401. Soviet portable cassette player. Made in 1973. This model, with a switch rate of the tape, made in Kharkov in 1972, and in 1969 produced a similar tape "Desna", the first of a series of such models and their modifications. Also produced a similar tape titled "Legenda 401". All of them were based on the tape firm Philips, model EL 3300 - EL 3302, is made in 1963
(EL 3300). The basis for copying has been taken overall layout, design, and construction machinery. Circuitry to 10 transistors and two transformers copied from a model EL 3301.
I remember a time when we came home a tape recorder, it was the Sputnik 401, black only. There was a lot of emotions, because before that tape recorders were the only foreign-made and not available to most ordinary Soviet people. He worked as a tape recorder normally until the time has not yet worn domestic compact cassettes MC 60, which were of very poor quality. Very quickly they began to creak and stop. Come across even a new compact cassette, which was difficult to scroll. Who could use foreign, but it was difficult to buy them, and they cost dearly. As I recall, serious fault recorder did not happen, although I exploited it very much over the years. However, assuming that it is I just got lucky, as domestic radio components at the time were of low quality and build quality was also bad.
Nevertheless, the unit that I bought this time was intact, albeit in poor external condition. Judging by the state board amplifier, repairing it is not a lot, and the whole were even belts. After thorough cleaning and prevention unit purchased is completely normal. It works well enough, and probably could have even better, but the combination head heavily worn, and no change is desirable, since these heads are not doing it. Typically, the back side of the case heads have the contacts to which wires are soldered. It also uses the head without the usual pin - contacts and shielded cable goes straight from the shell, potted.
Dimensions recorder 220 x 120 x 63 mm. Weight without battery 1.3 kg. Supply 9 v, six batteries with A343 (type C), at 1,5 v. You also have the job of the AC adapter. There are two speed tape, standard - 4.76 cm / sec, and slow - 2,38 cm / sec. The recorder came with a microphone, the MD-64A with remote control switch.
Video review
Photos can be enlarged
In the photo on the left is seen a belt speed of the switch
The photo shows the date of manufacture, and the price - 170 rubles.
Compare the copy with the original. Right Philips EL 3302
The electrical circuit of the recorder Sputnik 401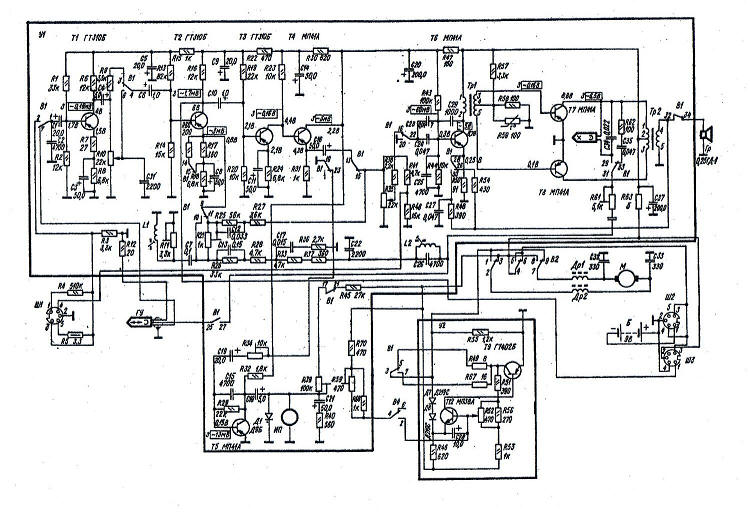 Basis for electrical tape Sputnik 401 was taken scheme Philips EL 3301. In the photo at the bottom of the scheme Philips EL 3301 from the book of Csabai D, "Cassette tape"