Minifon Protona Special
Used Google translator
Minifon Protona Special. This is one of the later models in the series of wire recorders Minifon. They were produced from 1960 to 1965. From 1960 to 1962, their company produced "Protona GmbH"; Hamburg, and from 1962 to 1965, after the merger - "Telefunken", Germany. In the first 50 years also produced models P55 and Mi51, and their electronics was still a tube. Both these models are collected on 3-miniature vacuum tube, and for their work required 3 batteries. 12 v to power the motor, 30 v - the anode voltage, and the 1,5 v - glow lamp.
Minifon Protona Special, which I represent, made in 1962, has 6 transistors, and is powered by a battery. It makes me wonder. Precision mechanics performed a technically flawless, and after the repair works like a clock. Block heads during the move up - down uniformly laying wire on the coil. See how it works, have fun. Dimensions recorder 177 x 102 x 42 mm. Weight 800 g. Coil diameter 44 mm accommodate the volume of a special wire with a diameter 0,038 mm, sufficient to work for 5 hours at a speed of 23 cm / sec (model L). Also used the wire diameter 0,05 mm. For these recorders and the other was a standard rate - 34 cm / sec (model S). Nutrition 12 v. Batteries required size, as I understand, made specifically for this series recorders. In the kinematics used engine with electronic speed stabilization. The active elements of the stabilizer are the transistor and the light bulbs. Movement of the engine is transmitted through belt a cylindrical flywheel axis of rotation which is horizontal. Further work shaft rollers and a system of gears. Unlike other portable recorders that time, there is hitchhiking. When the coil wire ends, she pressed the lever is released. This lever, in turn, presses the power circuit breaker, located under the coil. The solution is simple and original works flawlessly. As an indicator of hitch is used, the red light bulbs, located above the miniature needle indicator of the supply voltage. Block heads made in the nonseparable case with a guide groove for the wire, and has special springs to prevent her jumping down. During the head moves up - down uniformly laying wire on the coil. This motion is realized through a system of gears. Four keys, - "stop", "rewind", "play back", and "record" are made from high quality plastic and are arranged in a row. Above them is counter flow wire. To the left of them, jack for external power supply, and the right connector for microphone and headphones. No built-in speaker. On the flip lid case recorder glued brief instruction manual in English. Housing cast, made of durable magnesium alloy. For recorders in this series were issued special spy accessories, such as a microphone, under the camouflage watches, a device for recording telephone conversations, a miniature microphone with a clip, and others.
Know that in Germany, these recorders are sold for 925 DM (model S), and 985 DM (model L), which was at that time large sums. All models Minifon were very popular, used by special services, and successfully sold in 80 countries.
The device has got me in the hands of a very long time, and I repaired it then improvised means. Therefore, the photographs can be seen on the modern, including domestic radio components. For example, instead of the visible LED indicator lamp. Also replaced belt and tires on one of the rollers. Now the recorder is in working condition, but I plan to find a family details, and put everything in their original condition.
Video review
After 1962, in the United States on the label in the box between "minifon" and "special" could be placed logo "ITT". Photos can be enlarged
Photographs taken during the repair
On the left the original batteries 12 v. On the right hand-made battery 12 v.
Microphone to the recorder Minifon Protona Special, Minifon Attache, and Minifon Hi-Fi.
Power supply 12 v to type recorders Minifon.
Coils of wire
Block heads to the wire recorders Minifon Protona Special and Minifon P55
Electrical circuit and technical parameters Minifon Special. Photo from the book by Roland Shellin "Minifon Spy in the pocket", (Roland Schellin, "Minifon Der spion in der tasche"). It is seen that in the scheme may be 4 or 5 types of transistors, OC304, OC307, depending on the modification. However, in my recorder to 6, with a different type (OC75). The amplifier is built on four transistors, one used in the stabilizer speed motor, and another as a protection diode on power supply.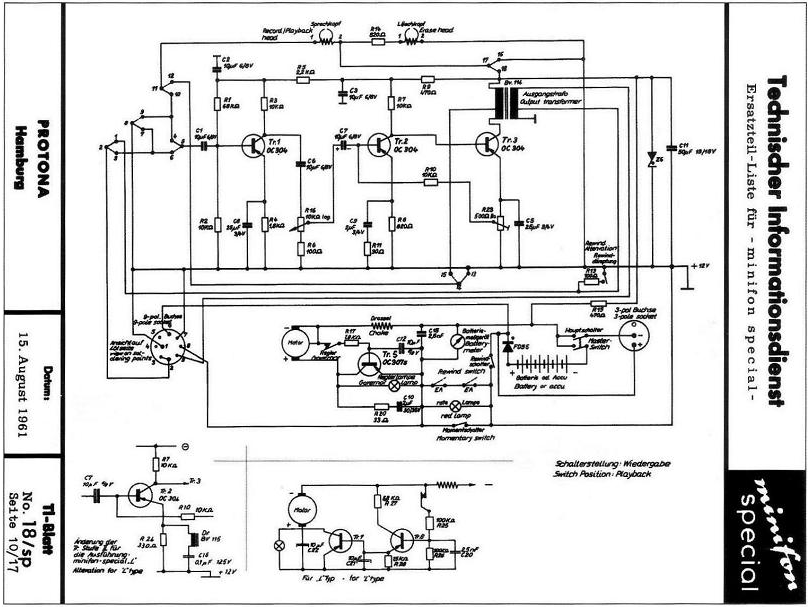 Description of the Minifon Special in the Telefunken catalog
Microphone, clock-clad "Minifon", and advertising similar watches "Lafayette"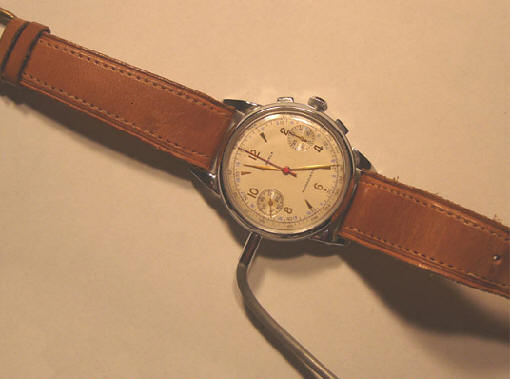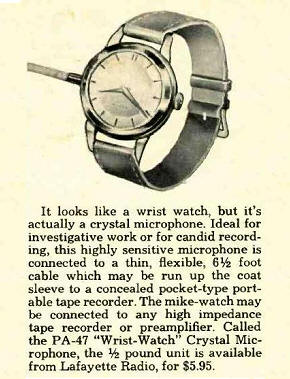 Minifon Liliput
There is no such recorder in my collection, but since this model is outstanding, I decided to post here the information I know about it.
In 1958 - 1959, a prototype of the Minifon Liliput recorder, even smaller than the previous Minifon models, was designed. It weighs 500 grams, dimensions 136 x 87 x 43 mm, food, 8 - 10,5 v battery from a compact Mini-accu. There were options for wiring 3 and 4 transistors. In a series of model unfortunately did not go, and at auctions, I have not seen it yet. A total of about 10 copies were produced. Now it is known that two of them are in private collections, and two more are in the museum storage. A photo of the recorder is placed on the cover of the book by Roland Shellin "Minifon The Spy in Your Pocket", (Roland Schellin, "Minifon Der spion in der tasche"). In this book of 200 pages of detailed history and construction of all models Minifon with plenty of photos.
Also Roland Schellin shared with me several photos of Minifon Liliput, which show details of his design
The kinematics of the recorder are largely borrowed from previous Minifon models. It is interesting that in this small design even the meter of wire consumption has been placed