Fanon-Masco FTR-2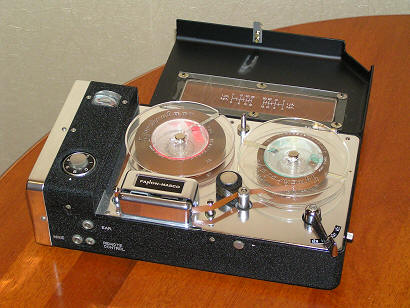 Used Google translator
Fanon-Masco FTR-2. Portable reel tape recorder. Made in Japan, probably in 1968. Dimensions 235 x 127 x 70 mm. Weight without batteries 1.9 kg. With the recorder you can use the reel diameter up to 3, 1/3 inch. The speed of the tape is stabilized. Switching speeds, 3, 3/4 - 1, 7/8 inches per second, produced by the nozzle, put on the capstan, and increases its diameter. There is a rewind. As with most portable tape 60s, rubberized flywheel rotation is transmitted directly from pressed against the edge of the motor shaft. Rubber belt in the construction of no. Wiring is collected on five types of transistors 2SB75 (3 pcs.), 2SB77 (2 pcs.). Meals 9 v by six AA batteries that are inserted in a metal container with a socket. Also provides power from the adapter. There is a dial gauge and the voltage level of the recording. Almost all of the details of the tape and the body are made of metal, plastic parts almost none.
Design is a good impression, and he also survived quite well. Traces of repairs inside I discovered. Included with the tape recorder I got the original shipping box, leather case, reel magnetic tape, the original microphone in a leather case, a beautiful original headset, a device for recording telephone conversations, and operating instructions.
Currently, the unit is in working condition.
Photos can be enlarged
Photos taken during the repair
The original dynamic microphone (575 ohm) with switch remote control, and a leather case.
The original beautiful dynamic earphone (7 ohm). Thing is stylish, even by modern standards, but the photographs can not fully appreciate it, we must hold in your hand
Boxes with tape and a device for recording telephone conversations with the sucker (870 Ohm). In order to record the conversation had to connect the device with suction cups to the handset
Container at 6 AA batteries and old batteries that I got a tape recorder. Alkaline batteries are manufactured in the USA. Judging by some design features are made they were in the 70s
Instructions and wiring tape Fanon-Masco FTR-2