Panasonic RQ-115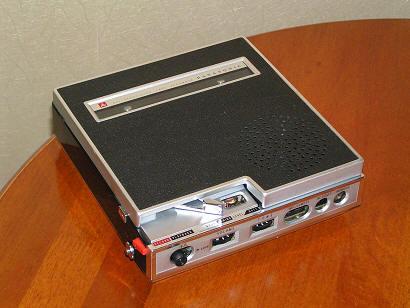 Used Google translator
Panasonic RQ-115. Portable reel tape recorder. Made in Japan in the 60s by "Matsushita Electric Industrial Co., LTD.". Dimensions 195 x 185 x 63 mm. Weight without batteries 1.8 kg. With the recorder you can use the coil diameter to 3 1 / 3 inch. The design of the apparatus is quite complicated, there is rewinding the tape to both sides, which is not typical for such recorders of the time. As a rule, there was just rewind. As with most portable tape 60s, rubberized flywheel rotation is transmitted directly from pressed against the edge of the motor shaft. Switching speeds, 3 3 / 4 - 1 7 / 8 inches per second, produced by the nozzle, put on the capstan, and increases its diameter. Wiring is collected on the six-transistor type
2SB172 (1 pc.), 2SB173 (1 pc.), 2SB175 (2 pcs.), 2SB178 (2 pcs.). Is powered by 12 AA batteries, six batteries, engine feed, and the other six - wiring diagram. Also provides power from the adapter with a voltage of 9 v. There is a dial gauge and the voltage level of the recording. In addition to volume control, a tone control.
Design is a good impression, and he also survived quite well. Traces of repairs inside I discovered. After replacing the rubber belt tape recorder running, but only conditionally. Rubber flywheel dried up and lost its elasticity, and it can not be repaired. In this regard, the hearing notice some uneven movement of magnetic tape.
Photos can be enlarged
The original microphone with remote power switch
Instructions and wiring the recorder Panasonic RQ-115