Sterling LS-4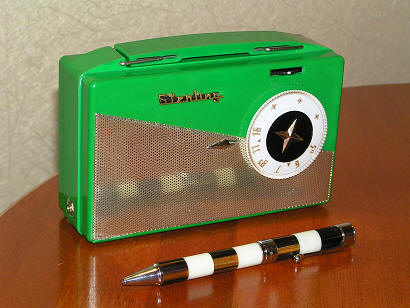 Used Google translator
Sterling LS-4. Portable tube radio - superheterodyne. Made in Japan in the mid 50s. Dimensions 160 x 105 x 55 mm Weight without batteries 0.7 kg. Power is supplied by two batteries. Filament voltage - 1,5 v, battery type D, the anode voltage - 67,5 V, battery type 416 Eveready. Wiring is collected on four miniature radio tubes type 1R5, 1T4, 1U5, 3S4. On the inside back cover sheet is glued to the wiring diagram and brief information. The receiver is nice, its nice to hold in their hands, and he got me in good working condition.
Video review of radios, including Sterling LS-4
Photos can be enlarged
Homemade battery anode turned 72 v, and not 67.5. In the container at 4 AAA batteries fit 4 batteries of 12 v, and 4 batteries of 6 v of type MN.