Vesna-309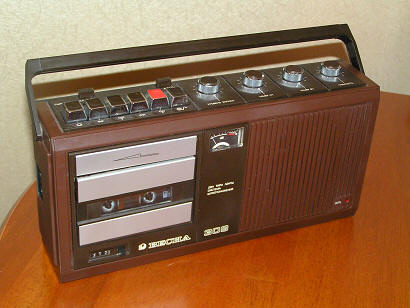 Used Google translator
Vesna-309 (Весна 309). Soviet tape recorder in 1988 release. Get me in perfect condition, a friend gave. If the device once, and enjoyed, then a little, it is practically new. However, one defect has been. All these years he was kept from clicking the play button. As a result of prolonged pressure on pinch roller capstan, the last little bit bent. I had to replace it.
Dimensions recorder 365 x 183 x 85 mm. Weight 2,7 kg. Meals on the passport of 9 v, but is used 7 batteries А343 (C). There is also a built-in AC power supply. Technical parameters apparatus is quite decent. Operating frequency range using tape on the basis of chromium dioxide, 40 - 12 500 Hz. Relative noise level of -55 dB. Total harmonic distortion, not more than 4%. Output power 1 watt. All controls are at the top of the enclosure. There are volume controls, recording level, and two tone controls, LF and HF. There also are buttons activate squelch and select the type of tape Cr - Fe. On the front panel are turnout indicator, tape counter, and the indicator light. Kinematics is quite full, with two flywheels spinning in opposite directions. Interestingly, belts were absolutely normal, and not have to change them. Circuit that time was quite modern. The amplifier uses transistors KT3102, KT3107 and chips K157UD2, K174UN7. The generator is made on the chip erase K157HP2. Engine BDS-0,14M, quite complex in itself, has a feature-rich and control unit. When I get the ball rolling apparatus for the audit, it was still sealed. Unfortunately, the photograph is not disrupted by the factory seal failed. What I saw inside, I was pleased. Everything was done very carefully, and assembling my comments to be found. However, the quality of the PCB took me back to reality, the machine still was made in the USSR. Nevertheless, the recorder works fine, sound good, or what problems there. This is exactly the case when the appearance of the worse domestic content.
Photos can be enlarged
Compact Cassette MK 60-5, made in 1990 in the USSR. At that time the price printed on the goods, and on that tape, too, is the price - 4 rubles.
Manual and Electric circuit Vesna-309 (Весна 309)
Electric circuit - Figure 1
Electric circuit - Figure 2
Electric circuit - Figure 3
Electric circuit - Figure 4
Electric circuit - Figure 5
Electric circuit - Figure 6
Electric circuit - Figure 7
Electric circuit - Figure 8
Electric circuit - Figure 9