Sony BM-17 Dictator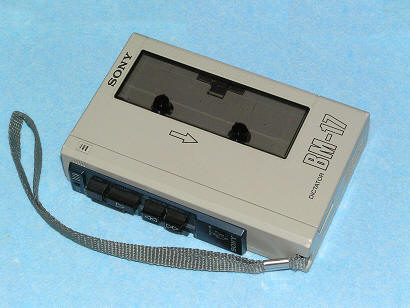 Used Google translator
Sony BM-17 Dictator. Portable cassette tape recorder. Made in Japan in the 80s of the last century. Dimensions, with no protruding buttons, 130 x 82 x 31 mm. Weight: 0,25 kg without batteries. Power 3 v, two AA batteries. Despite its small size, the recorder has a good set of features. Switch can pause, fast playback, and frequency correction in playback. The last switch in the record alters the sensitivity of the microphone. There are also jacks for headphones and external microphone, built-in electret microphone, Tape Counter, volume control, power LED, and a connector for an adapter. Kinematics allows us to start playback to produce forward and rewind. If you rewind the sound is not turned off, allowing the ear to find the breaks between records.
The amplifier circuit assembled on a chip Sony CX-807, and transistor B739. The board also has a chip of unknown function with marking 56128 66.3.
Staff in all respects remarkable, and still is in good working condition. Traces of repairs I have not discovered.
Photos can be enlarged