RCA Victor 54B2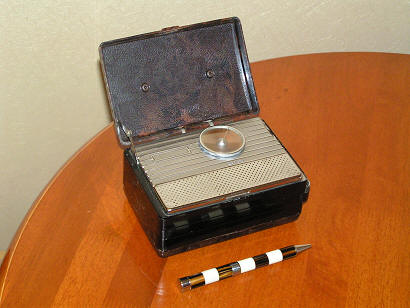 Used Google translator
RCA Victor 54B2. Portable tube radio - superheterodyne. Made in the USA by "RCA Victor Radio Corporation of America, RCA Victor Division Camden, N.J., U.S.A.". The exact date of manufacture of the receiver is not known, but it is known that they began producing in 1946. Dimensions 155 x 105 x 75 mm Weight without batteries 1 kg. Housing made of metal with two plastic covers. Power is supplied by two batteries. Filament voltage - 1,5 v, battery type D (VS036, VS001), the anode voltage - 67,5 V, battery type 467 Eveready (VS016). Wiring is collected on four miniature radio tubes type 1R5, 1T4, 1S5, 3S4 manufactured by RCA. On the inside back cover is glued newsletter. The receiver is turned on when you open the top cover. When you close the lid presses the rod dip switch disconnects power to the receiver. Inside the lid is a loop antenna. Under the hood is a knob, and the right of the volume control.
I got the receiver in good working condition with a working battery anode 67,5 v - Eveready 467. Dimensions Battery 90 x 70 x 35 mm and weighs 340 grams. Also included was the original owner's manual.
Video review of radios, including RCA Victor 54B2
Photos can be enlarged
The photo can be seen on the right contacts loop antenna built into the top cover, and between the shaft power switch receiver
The photo on the right home-made battery anode, collected from eight batteries "PP3"
Manual radio RCA Victor 54B2
Electric circuit radio RCA Victor 54B2 (copy of the site http://www.nostalgiaair.org )
Advertising in the magazine "Radio & Television Retailing" for October 1945