Philips EL 3302A/15G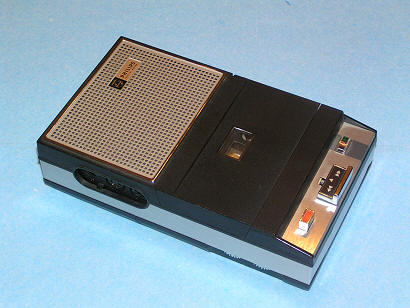 Used Google translator
Philips EL 3302. Portable cassette tape recorder. They began to produce in 1966, and this unit was made in April 1969. It is also known that the model Norelco Carry-Corder '150' similar to the model Philips EL 3300 was presented to the United States in 1964. These, and other similar tape recorders are development of the very first serial model cassette (Compact Cassette) the tape recorder in the world. It was the Philips EL 3300, introduced in 1963, together with the advent of compact cassettes. The shape and overall layout of the tape proved so successful that in the future, such devices were produced for many years in various countries in large numbers. In this design certainly changed somewhat, but they were similar in appearance to the very first Philips EL 3300. In the Soviet Union in 1969 also produced similar tape titled "Desna" (Десна), and from 1972 - "Sputnik 401" (Спутник 401) and "Legenda 401" (Легенда 401).
Philips EL 3302A/15G, which you see in the photographs was made in Austria, and got me in excellent condition. To improve its capacity require only the replacement of rubber belts, and cleaning the battery compartment contacts. Original rubber belts developed from old into something resembling a pitch, and it all had to scrape away a long time. The design of the recorder is very simple, but provides all the minimum necessary functions. Mode control is performed by one lever, which can move in four directions. Explain in detail how it works, I think there is no need, as such recorders used to be in every home.
Dimensions 200 x 114 x 60 mm. Weight without batteries 1 kg. Power 7,5 v, five batteries C. Speed Tape 4.7 cm / sec. Belt width 3.81 mm. In the kinematics used two rubber belt. Circuit collected at nine transistors, two of which are used in the stabilizer motor speed. There are, - a microphone and line inputs, line output, output to an external speaker, separate volume and level of recording, the recording level indicator and power supply. Also provided for connecting the power adapter.
Overall impression of the device is very good, and now he is in excellent working condition. I must say that Soviet counterparts were working normally. Problems also arose with the friendships compact cassettes, which in the Soviet Union were very poor quality, and constantly jammed.
Photos can be enlarged
On the enlarged photo shows the remnants of old rubber straps.
The photo on the left of the kinematics of the new rubber straps. The photo on the right board cruise control electric motor.
Fee universal amplifier, which includes generator erasure. Three of the seven transistor amplifier can read the marking. This BC148A (2 pcs.), And A158B (1 pc.). Also pictured on the left of species already peeled rubber rollers
Compare. In the photo on the right "Sputnic 401" (Спутник 401), produced in the USSR.
The electrical circuit of the recorder Philips EL 3302, copied from the book of Csabai D, "Cassette tape"